Eeee!!!!! I'm so excited to share our engagement pictures with ya'll today! Myles and I worked with the incredibly talented Alicia Lacey, and I could go on and on about how wonderful she is to work with. Seriously, she is the sweetest and her work is stunning!
Alicia is based in Washington D.C., so we were fortunate she was able to make the trip down to Virginia Beach for our sunset shoot. She's welcoming a little one to the family very soon!
Funny story. When I was in the VERY early stages of wedding planning, I first set out on finding a venue. I luckily stumbled upon the Mill at Fine Creek and one of the first blog posts I saw was shot by Alicia. Her pictures really stood out, and I immediately knew that 1. Not only did we need to have our wedding at the Mill but 2. We needed Alicia as our photographer.
I'm pretty sure I didn't even look into any other venues or photographers at the point….. Myles will tell you, once I have my mind set on something, I'll make it happen 😉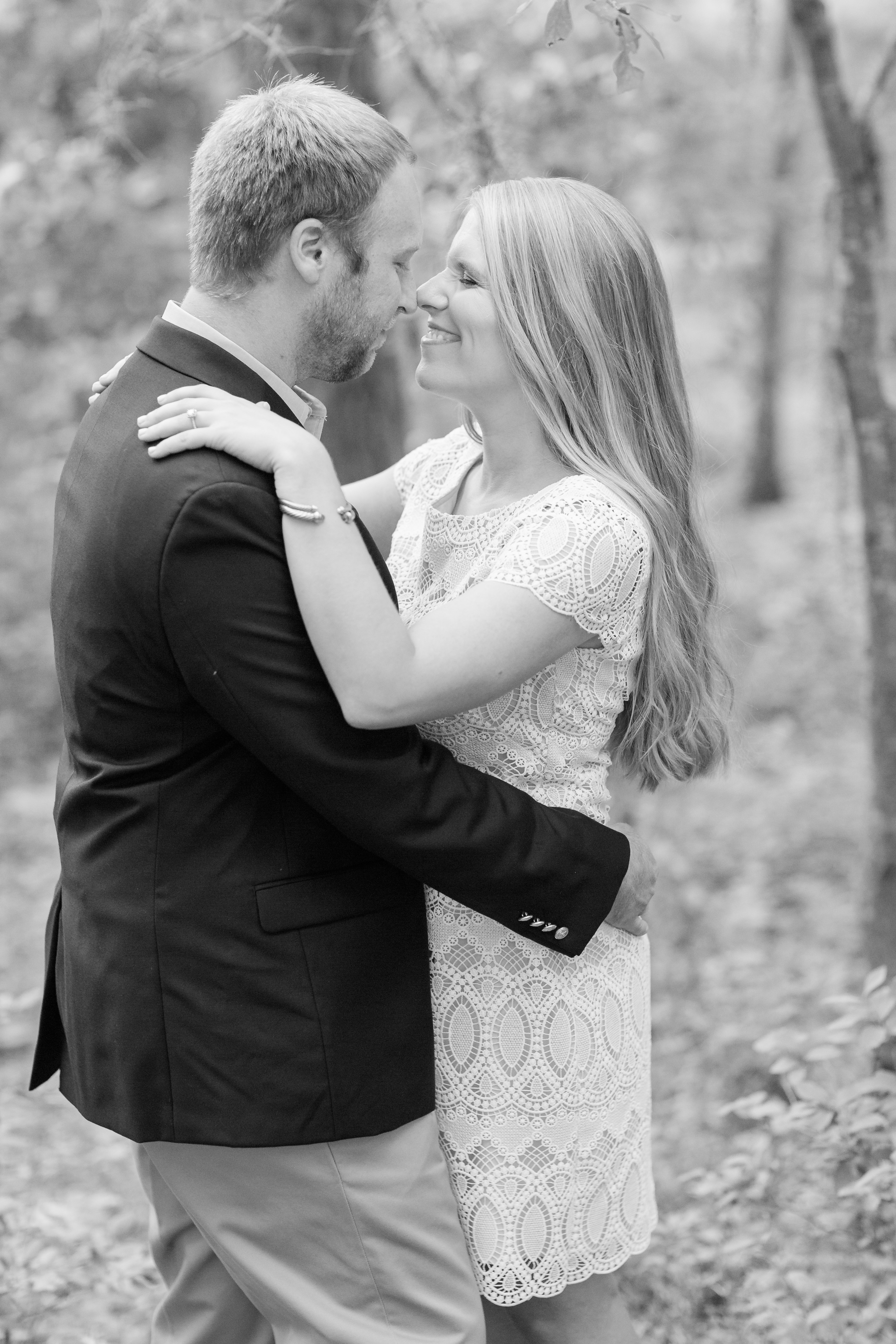 I immediately reached out to Alicia and luckily she was free the day of our wedding. We booked her ASAP and the rest is history. I knew instantly we'd be in good hands, and never doubted how our pictures would turn out (especially after seeing our engagement pictures now!)
I also really was at a loss of where to have our engagement session, so I asked Alicia if she had any ideas. Our only requirement was that we wanted to be somewhere near the water, since the beach is really special to both Myles and I. Alicia recommended First Landing State Park in Virginia Beach and mentioned that there was Spanish moss. Insert all the heart emojis. Once again I was sold…..
We scheduled our session for late August and hoped for the best regarding weather. Weather in Virginia can be really questionable. One day it can be 70 and the next 100 degrees. Lucky for us, it was on the cooler side with overcast lighting. It was perfect, and I'm sure Myles appreciated the 'cool' weather since he was wearing a sport coat and pants!
As for me, I really struggled with what exactly to wear. No pressure at all having a fashion blog right?! Ha! I knew that I wanted a more formal, classic look as well as a more casual, flowy look that would work well on the beach. I seriously looked for weeks to find the perfect dresses and thankfully found two about a week or so before our shoot. Talk about cutting it close!
The dress I chose above is a gorgeous Eliza J ivory sheath dress that was actually on sale! The quality is SO good ya'll. I was so surprised! It has the cutest zipper detail on the back as well. For those who are looking for an ivory dress for any wedding related events (or just because!) I couldn't recommend this one enough. It's simple and classic, yet has gorgeous detailing. I also ordered the 3/4 length sleeve version to try on and it's equally as stunning. In the end the short sleeve just fit me better.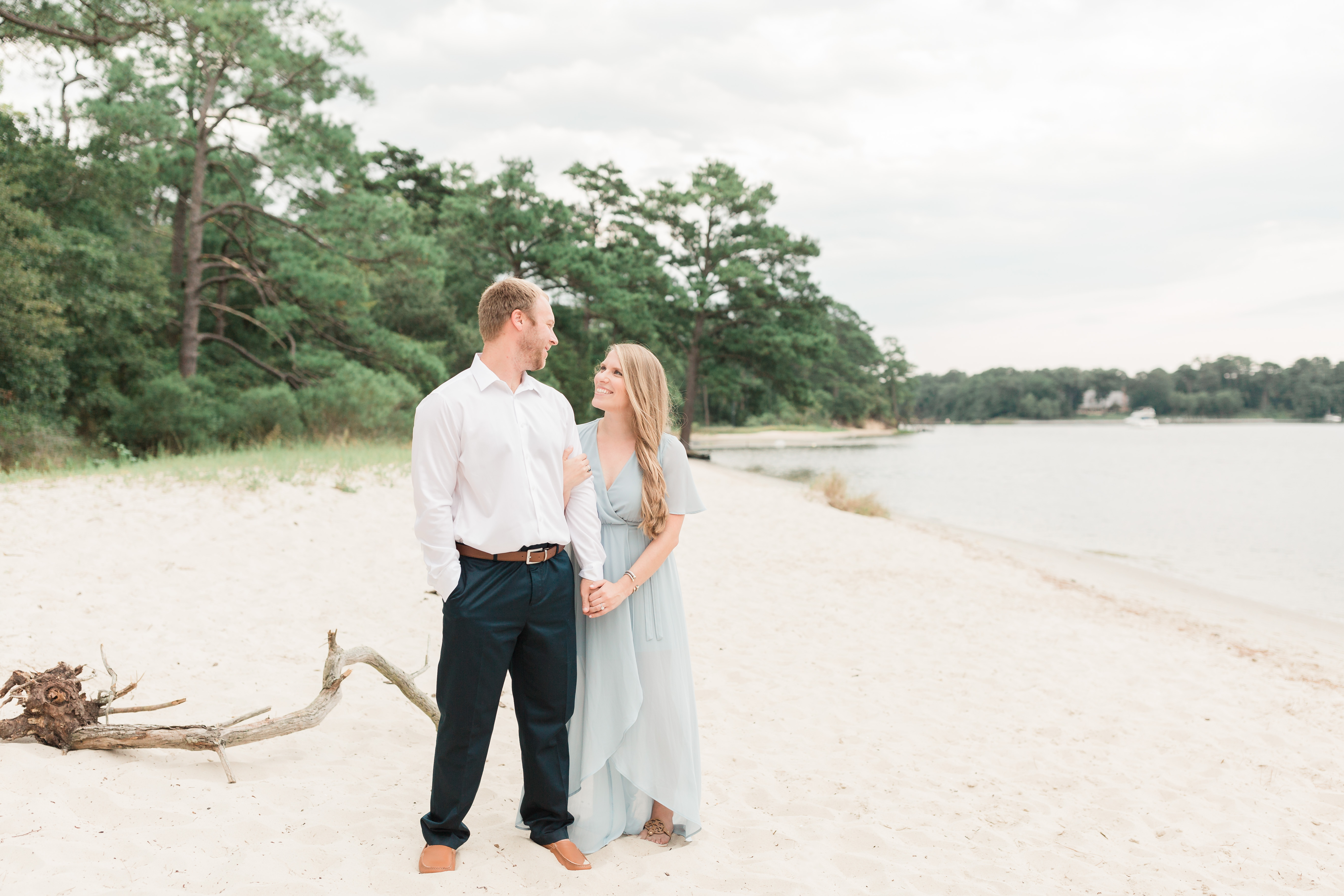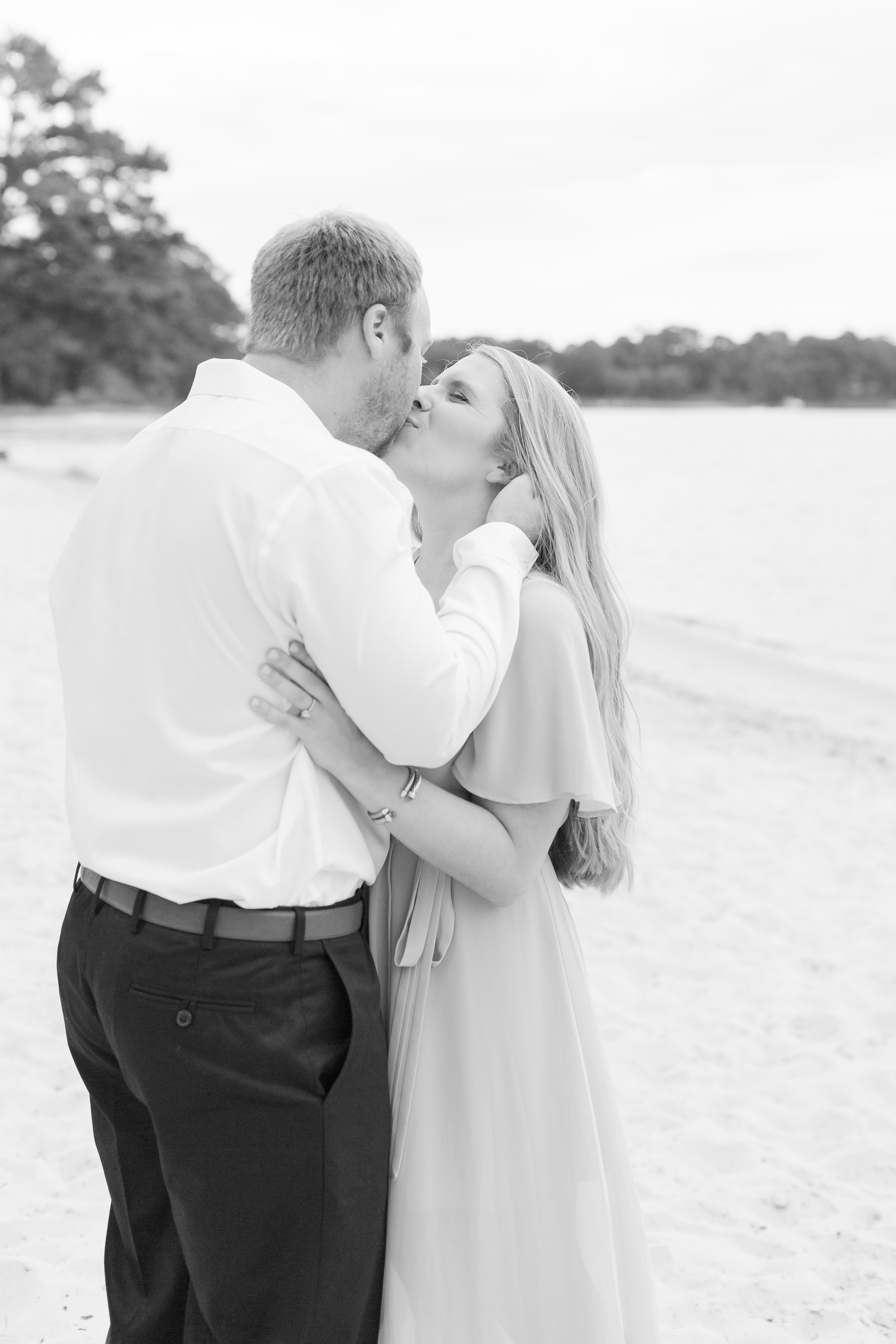 For my second dress, I went with a beautiful light blue Show Me Your Mumu maxi. This dress is what dreams are made of <3 It was EVERYTHING I was looking for and more. I really struggled to find this exact style. Everything I found was either strapless, halter, or spaghetti strap and I really wanted a little sleeve. As soon as I stumbled upon this maxi, I knew it was the one (despite the less than stellar reviews online).
Just a heads up, I did have to get the top altered. The reviews were correct in that it definitely is too low cut and loose up top. But that was no big deal, I simply took it to the tailor. They ended up raising the front, as well as sewing the V together so I had nothing to worry about on the day of our shoot!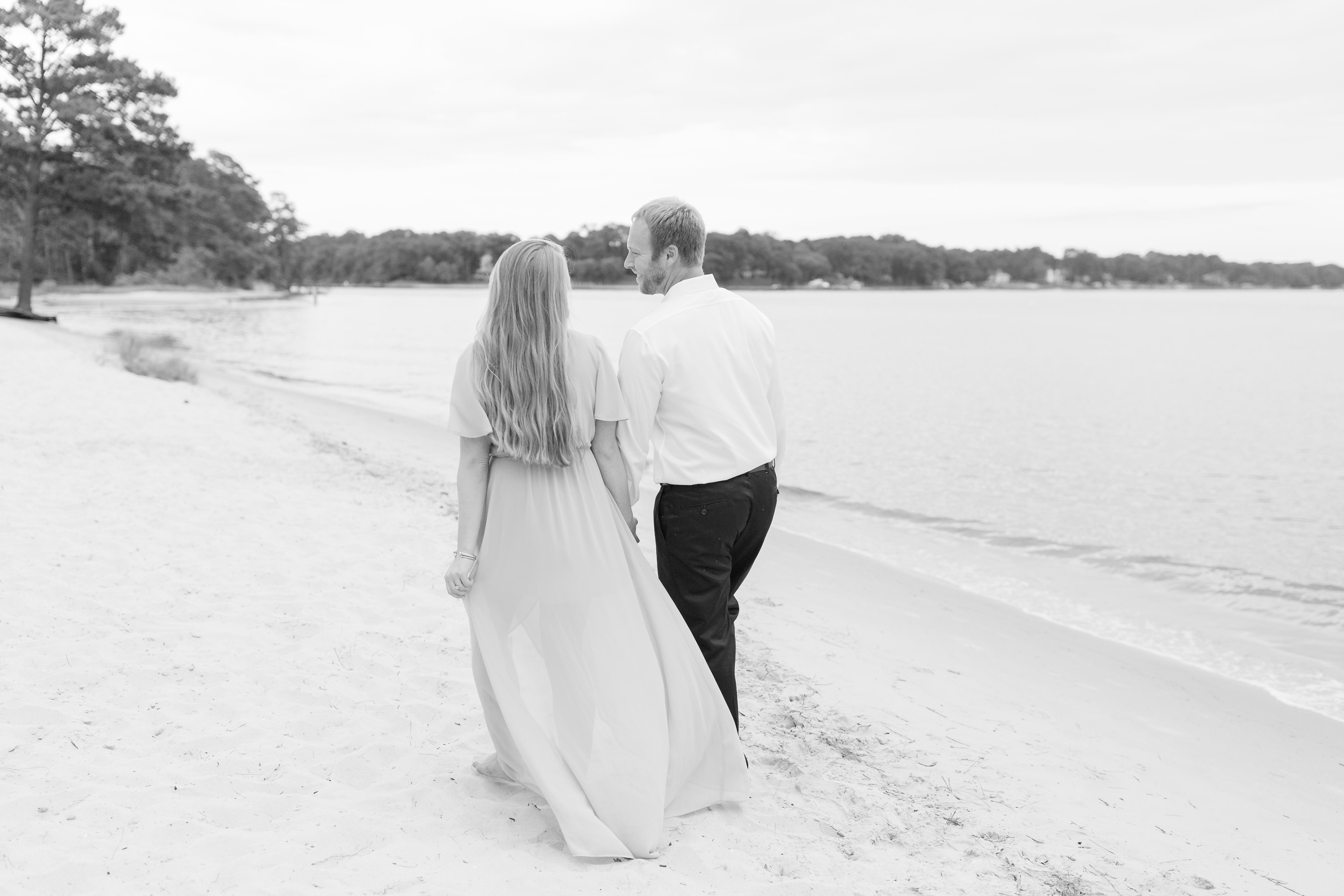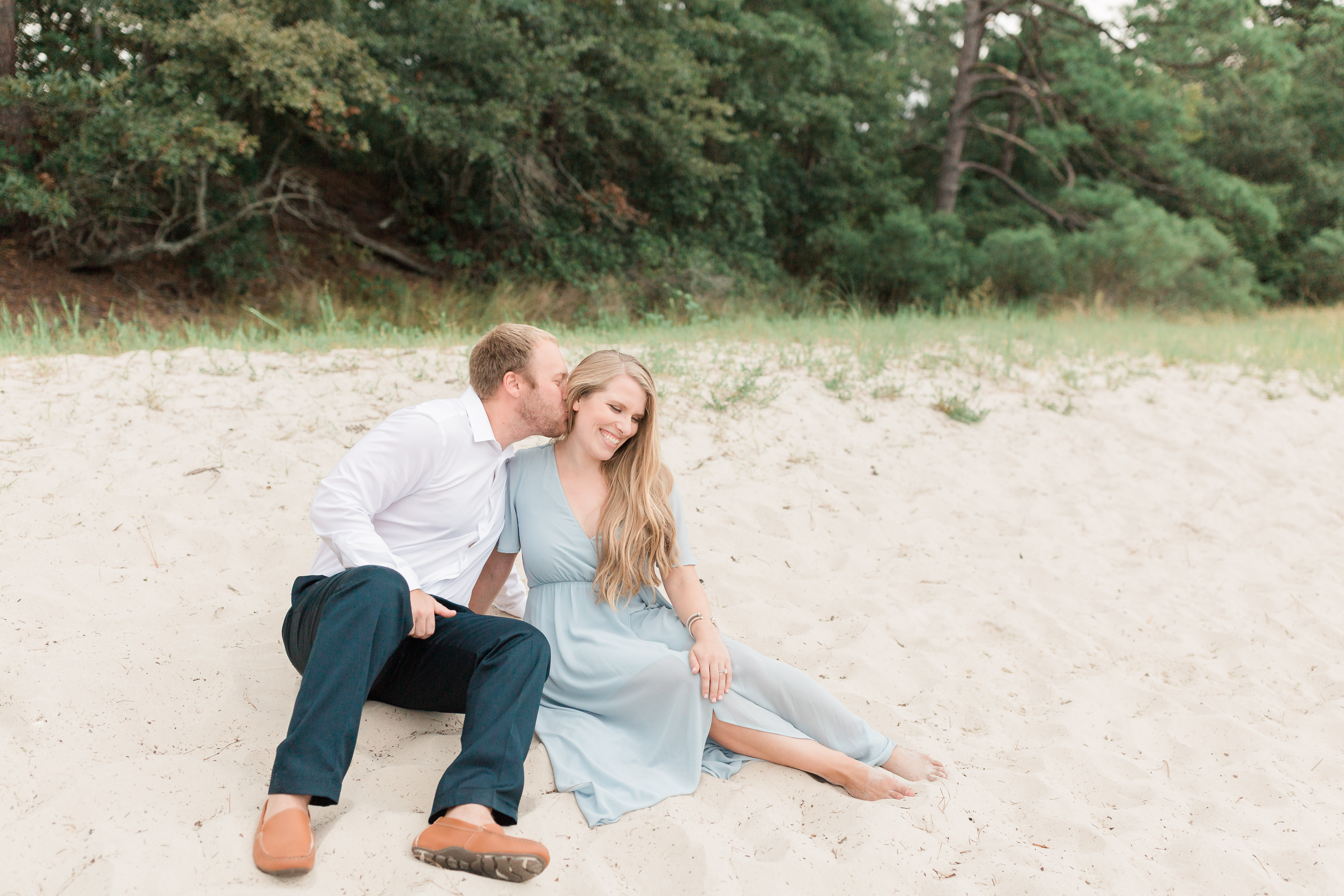 As for shoes, I went very simple with two pairs I already had at home. As well as without shoes for some shots! My trusty Tory Burch Millers were perfect for the beach shots and super comfy. My Sam Edelman sky high sandals worked great for the Spanish moss shots. Although I will admit I struggled HARD walking throughout the trees in those. Thanks Myles and Alicia for being troopers since I was walking SLOW and sinking into the ground!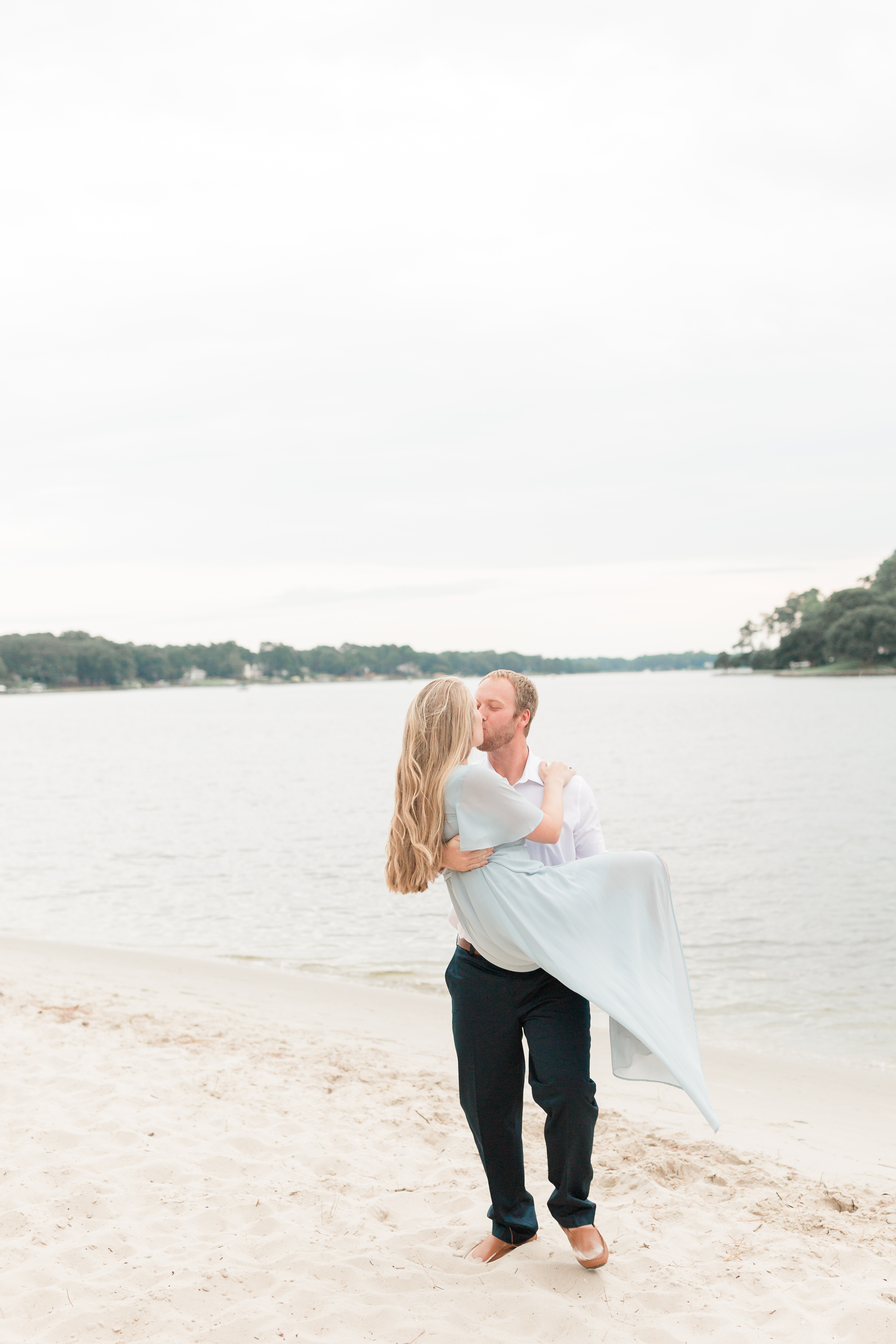 For jewelry, I also kept that very simple. Less is more after all right?! I ended up wearing two Yurman bracelets, a Yurman ring that Myles gave me a few years ago, and of course my engagement ring 😉 I really wasn't sure about necklaces, and just decided to go without. I'm really glad I did. The dresses ended up  speaking for themselves……
As for hair and makeup, I made the last minute decision to try out Shine Blowdry Bar in Richmond. I was SO impressed! I'm really glad I decided to have both professionally done, since I'm by no means a beauty guru. Caitlyn at Shine worked her magic, and I felt so confident on the day of our shoot. Despite the sticky weather, my 'waves' held up for over 6 hours prior to the shoot which is very shocking for my thick hair. For those debating whether or not to get your hair and makeup done, I say GO for it! Not only is it one less thing to worry about, but it's nice to be a little pampered for the special day.
And now that I've overwhelmed ya'll with dozens of pictures, I think I'll end this post before I sneak in a few more! I really can't recommend our photographer Alicia enough for those in the VA/DC area. Now that I've seen our pictures, I'm even MORE excited for our wedding day.
I love you Myles and I can't wait until 5/5/18 <3
XOXO
**For those who want to see even more pics, check out Alicia's blog post here. She truely did capture Myles and I as a couple so perfectly! **